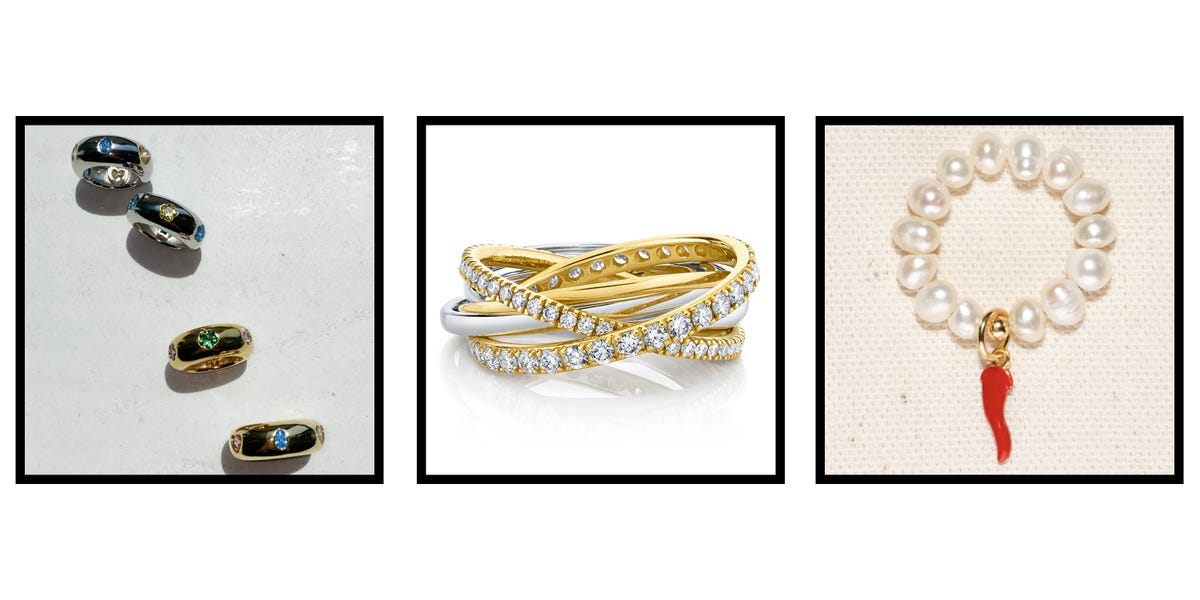 13 Rings Jewelry Designers Wear Everyday
Courtesy of Notte Jewelry, The Last Line and Joey Baby
welcome to The Everyday Edition, a series in which BAZAAR editors and fashion insiders share the articles—Bags, jeans, earings, and more that are so good they're in daily rotation.
---
"One of the reasons I love accessorizing rings is that I can see and appreciate them without a mirror, unlike necklaces and earrings," said the founder and designer of Auvere, Gina Love. BAZAAR.com. Seeing is loving: Everything from writing professional emails to scrolling through your FYP TikTok looks all the brighter with a ring (or three) on your fingers.
Your options for must-have rings are endless, whether you rock dainty gold rings or diamond signet rings. To find ring styles you'll want to slip into day after day, we asked the designers behind The Last Line, Stone & Strand, Eliou and more to share their favorite everyday rings. Ahead, find 13 pieces that you'll always see shining in the jewelry experts' ring piles and will want to add to your own.
Advertising – Continue Reading Below
Amaya Gold Tone Domed Ring
"My jewelry changes as quickly and as often as my mood does. Some days I wake up feeling simple, and other times it's a 'crazier' kind of day. Our Amaya ring was designed to play between statement lines and simplicity so it can navigate between different moods.It's chunky and perfect and I wear it every day stacked with fine jewelry or playful pieces.Cristina Mantilla, co-founder of Eliou
Fine Diamond Maritime Ring
"I love accessorizing with something sparkly in the winter – it's an instant mood lifter during the darker months of the year. Our maritime diamond ring is my everyday favourite. It's a great piece to stack that takes up a good chunk of the real estate on the hand without overwhelming the other bands I like it paired with a few other simple gold and diamond rings of varying widths, a pink diamond signet ring and topped with my Miu ankle boots Shimmering silver Miu — Nadine Kahane, founder of Stone & Strand
Diamond with a twisted cocktail ring
"Anything that makes my life easier is a yes for me. I have designed a collection of rings and several have become my everyday favorite pieces. If I had to choose one, I would say the Cocktail Ring, which features two bands of diamonds intertwined with a sterling silver ring and a yellow gold band It makes it look like multiple pieces but it's just one truly perfect ring I like to mix metals and this piece takes the guesswork out for me , which is a dream when I rush out the door with three children." — Shelley Sanders, Founder of The Last Line
Ling Bling Rings
"I've always loved exploring and mixing materials and the idea of ​​trendy jewelry to wear. This gold-plated sterling silver piece is exactly that: a more polished take on the Y2K aesthetic and resin balls we're all about. While the captivating blue heart crystal gives a romantic and dreamy feel, the baby pink enamel band adds a layer of playfulness to the whole design compared to just a gold or silver band.
It's so whimsical, easy and fun on its own. This piece caught the eye at the dinner table and became a conversation piece! However, it can also be worn with your other everyday ring stacks, such as a diamond eternity ring or a delicate gold ring. Personally, I like to layer it. I wear my diamond wedding band with large antique stones under the Ling Bling, and I add either a Dessert ring or a few adjustable drip bands on top, on days when I fancy a little more color ." – Claire Ngai, founder of CANDYWHIMS
Polished Slice Ring
"As I work a lot with my hands, I like to decorate my fingers with stacks of rings. I own quite a few rings, many of which I designed for Auvere. One of my favorite Auvere rings of all time is the Slice Ring Polished in solid 22 carat gold. I designed the Slice Ring in 2018 and it has become a popular ring for us. One of our clients even offered his fiancée a trio of these rings.
One of the things I love about the Slice ring is its simplicity. The story of this ring is in its minimalist form, which gradually rises to a small peak. The clean architecture of the ring showcases the richness of 22k gold and makes it easy to wear with everything. As good as the Slice ring looks worn on its own, I wear this ring stacked on one finger in a group of three. When worn this way, each ring rotates in different directions, resulting in a cool shape.
Another thing that makes this ring a great choice is its versatility. Slice rings look great together, but can be stacked with many other rings, including our 24k Xanthe Ring, Callen Ring and Octavia Stack Rings. I wear my trio of Slice rings with just about any look, but I prefer to wear them with graphic and monotonous colors, like black, white or red." — Gina Love, founder of Auvere
Prizm Ring Set
"We designed this set of rings because we wanted to incorporate a stackable ring into our Prizm collection. (All of our rings are generally standout pieces that are quite large and bold.) When the three rings are separated, they have their own identity , but when you stack them all together they create a bold look that is very much in line with all of our other rings.I really like the tricolor choice because I like the different results you get from mixing the metals.I usually wear the three rings of the set stacked or sometimes I can wear one or two and stack them with my Nika+Cito eternity diamond ring." — Kristin Essel, co-founder of Third Crown
now or never big ring
"I've always loved the look of chunky rings and wanted to create something fun and colorful while still being stylish enough to be an everyday piece. This chunky ring was inspired by my favorite items from our collections I really wanted to keep our signature use of romantic motifs in the design, so for the ring we made a carousel of colorful heart and teardrop shaped gemstones all around the thick band for that extra sparkle. love to wear it alone or in a stack of two, maybe in silver and gold if I fancy a mix of metals, or wear it with my other two new favorites, the Love in Bloom Ring and the Mini Baby Super Ring Bloom for the ultimate multi-ring look!" — Jessica Tse, founder of Notte Jewelry
Pavé Open Claw Ring
"This ring is one of my favorites because it is both versatile with its thin and delicate design, but at the same time it has substance with the CZs. It is slightly adjustable, so it can be placed virtually on any finger, making it stackable with any other ring it's layered with." — Adina Kamkhatchi, Founder of Adina Jewelry
Signature bezel ring
"One of my favorite pieces is the VRAI Signature Bezel ring with an emerald cut and set in rose gold. It is modern, but has a classic sensibility and detailing. The minimal gold border frames the elongated stone to create a look flattering on any finger. . Designed to be worn low on the finger, it can be comfortably worn alone everyday or stacked for a more glamorous look for a night out or special occasion. For an up look, I stack it with a tetrad or infinity wand because the mix of metals makes the look more playful and unique." – Mona Akhavi, Executive Director of VRAI
Hot pepper ring
"Most of my design inspiration comes from studying in Tokyo and living in New York. This ring is centered with a small dangling chili pepper enamel charm. It adds a bit of fun to the shiny freshwater pearls that wrap elegantly around your finger. It's a mix of minimalist New York style and a little Kawaii touch from Tokyo. I love stacking it with our Lone Ring and pairing it with some of our many freshwater pearl necklaces To complete the look, I add our matching Chili necklace. Joey Wong, founder of Joey Baby
Graduated Diamond Ring
"I designed the Jennifer Meyer Graduated Rings hoping to create something fresh that would also feel classic and timeless. I wear the diamond version every day, but love to add different colors depending on my mood or outfit. They are great on their own or stacked with all my other favorites. Jennifer Meyer, founder and jewelry designer Jennifer Meyer
The Ankh Diamond Eternity Ring
" I've created [this ring] because I wanted an everyday piece that could be worn on its own but could also be stacked for special occasions. The ring is inspired by the famous X and O diamond rings. I liked their delicacy and simplicity. After many design iterations, my jewelers and I finally created the version we have now. It was important to get the dimensions, scale and tape thickness right. The Ankh represents life, among other things. We make the ring ethically with lab-grown diamonds and fair trade African gold.
I like wearing [it] on my index finger with one of my simple stacking bands on the same hand. To spruce up the look for special occasions, I'll stack the simple ring with our classic diamond eternity ring." — Ashley Alexis McFarlane, Founder of Omi Woods
The Clams & Pearls Ring
"Drawing inspiration from ancient fairy tales, I wanted to create a dreamlike ring with a clam floating in a night sky of diamonds. My favorite feature of the ring is the miniature natural seed bead nestled in the center of the clam in hand painted enamel. I love stacking this ring with other gold treasures, including the matching necklace." — Cece Fein Hughes, Founder and Creator of Cece Jewelery
This content is created and maintained by a third party, and uploaded to this page to help users provide their email addresses. You may be able to find more information about this and similar content on piano.io
Advertising – Continue Reading Below