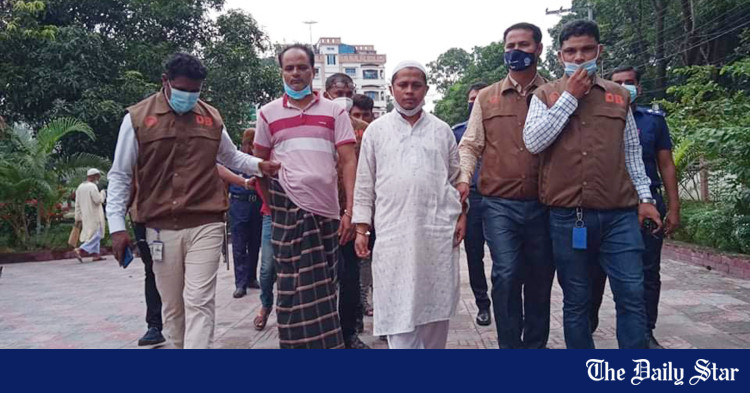 8 arrested for theft from jewelry stores in Munshiganj
Police have arrested eight people in connection with a case filed for the theft of two gold jewelery shops in the Sadar Upazila of Munshiganj.
The arrests were made yesterday during raids in different areas of five districts, Mawa in Munshiganj, Shibchar in Madaripur, Jajira in Shariatpur, Jatrabari, Gulistan, Kamrangirchar, Keraniganj, Babubazar, Tatibazar in Dhaka and Bandar area in Narayanganj.
Munshiganj Police Superintendent Abdul Momen confirmed the arrest at a press briefing today, our local correspondent reports.
Police seized a pistol, a bullet, four shotgun bullets and 15,000 Tk in cash from their possession, police said in a news release.
Those arrested are Md Sabbir alias Haat Kata Swapon (49), Md Billal Molla (30), Md Afzal Hossain (47), Md Akhter Hossain (32), Arif Hawlader (25), Md Farukh Khan (21), Md Ali ( 40), and Mr. Anwar Hossain (32).
Among them, Akhter Hossain is a shop owner who bought the gold ornaments from the thieves.
On September 16, a group of 18 to 20 thieves looted 100 tolas of gold ornaments from two shops – Nikhil Banik Sorno Shilpaloy and Monunag Sorno Shilpaloy – at Chitolia Bazaar in Munshiganj Sadar Upazila. The price of the stolen goods was estimated at Tk 50.06 lakh.
The thieves also stole four mobile phones and Tk 35 lakh in cash from the shops. They detonated crude bombs after the robbery and escaped through the Rajatrekha River.
Later, store owner Ripon Banik filed a complaint charging 18-20 unknown persons with Sadar police station.