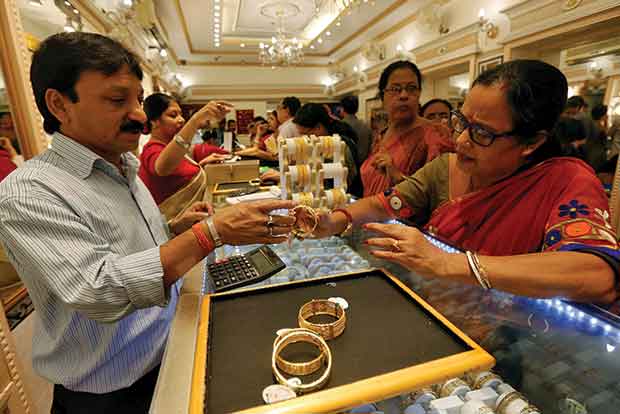 Bihar: Jewelery shops in Patna closed in protest after cases of looting; Demand security
Patna: Hundreds of jewelery shops in Patna remained closed on Saturday and shopkeepers staged a protest march demanding their safety. Angry protesters shouted slogans against local police and the National Democratic Alliance government led by Nitish Kumar for its failure to protect them.
Jewelry stores in Bakerganj, Bihar's largest jewelry mall, have closed for the second consecutive day following an appeal by the Sarrafa Sangh, a day after armed criminals looted a jewelry store in the district in the heart of Patna .
"We are scared because this was the second case of a jewelry store being looted at gunpoint in broad daylight in three days here," Suresh Kumar, a jeweler protester.
Another trader, Rupesh Kumar, said jewelry stores had become easy targets for armed criminals due to the police's failure to protect them. "We are helpless and live in fear. Any of us can become the next target," he added.
Some protesting traders threatened to close their businesses and hand over the keys to the administration if the government did not provide them with security. "How can we operate our business in such a situation of terror," they said.
A shopkeeper was shot and wounded by armed criminals in broad daylight last Wednesday in the locality of Rajeev Nagar here. This incident was reportedly linked to an extortion request. Such cases reflect a reality on the ground – that criminals are at large because the police do not control them, some protesters said.
The traders said they informed Patna District Magistrate Chandrasekhar Singh and Chief Superintendent of Police Manavjeet Singh Dhillon that their complaints were not taken seriously by local police officials.
In particular, the Mahagathbandhan opposition leaders have repeatedly pointed out that while police have been deployed to implement the ban in the arid state, law and order is being neglected resulting in a upsurge in crime across the state.
Calling it a "total collapse" of law and order in the state, with reports of murders, rapes, looting, extortion and kidnappings making headlines every day , the opposition said the fear of anarchy is once again haunting the common man of Bihar.
There have been instances where the powerful alcohol mafia has attacked the police. The sand mafia reportedly killed two people on Friday.
It seems that the self-proclaimed "twin engine" government led by Nitish Kumar, which hardly misses an opportunity to remind people that he established the rule of law in Bihar, is failing on this same front.