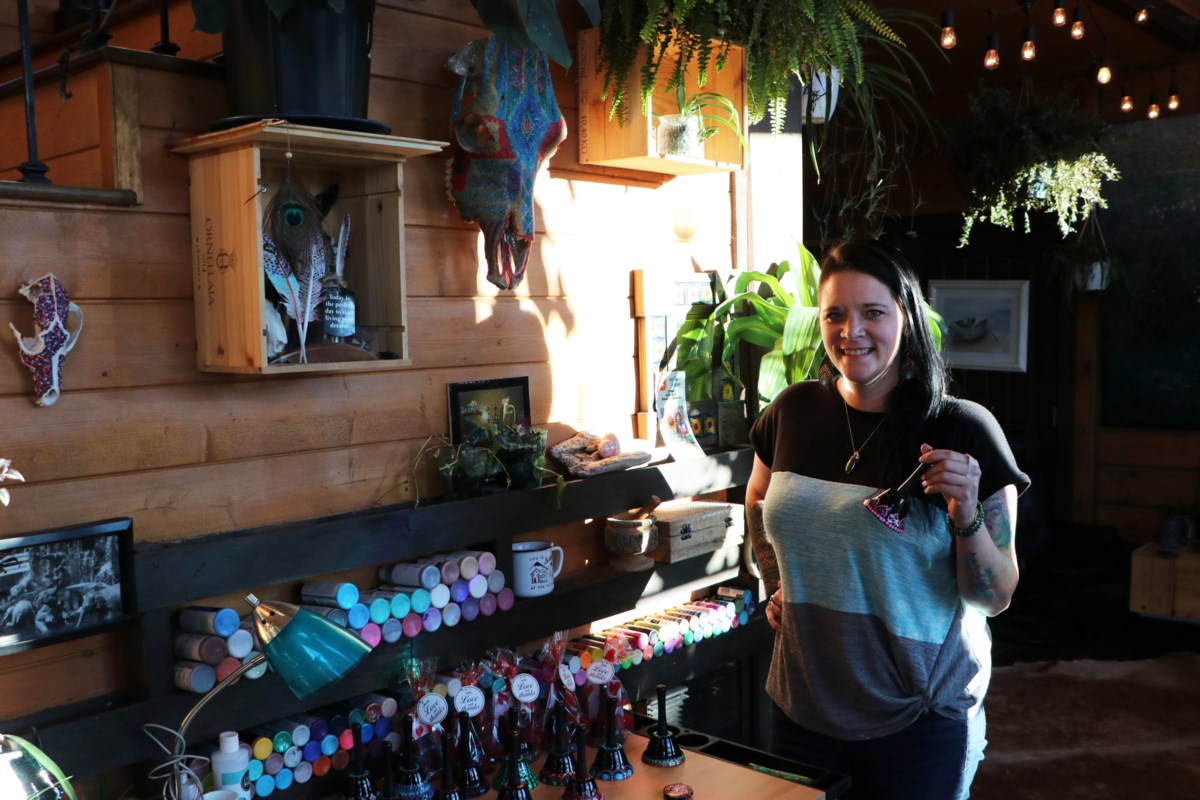 Domestic violence survivor Cochrane rings in healing with bells
What started as an arrangement with his son has grown into an entrepreneurial effort that combines art and generosity.
Love and attention is what's in store for whoever the bell rings.
That's the mission behind local woman and domestic violence survivor Chelsea Summer's heartfelt adventure: the love bells.
Summer, who was a successful destination wedding planner and travel agency before the pandemic, was one day sitting at her desk reviewing client refunds for canceled weddings when she began to feel overwhelmed. and to have impulses.
Out of the blue, she picked up the wedding bell from her desk and rang it.
"I was thinking about my son and how he was feeling, and how I had to focus so much on my recovery and things like that, that maybe I wasn't giving him enough love and attention" , Summer said. "I just had this urge to ring the bell and see what happened, and my son came running down the stairs.
"I just told him at the time, 'man, from now on we're going to ring that bell anytime one of us needs a hug – no questions asked.'"
Her young son loved the idea so much that they found themselves ringing the bell all the time, she said, which led her to paint it for him as a keepsake.
Between her failed career, losing nearly two years of travel commissions, and dealing with PTSD and traumatic brain injury at the hands of her former partner, Summer wondered how she could pick up the pieces and go forward.
She has always dabbled in art and one day she brought some extra bells, which she painted with mandala designs, to sell in a small market.
"A lady asked me about my story and about the bells, and so I told her…and she was almost in tears," Summer said.
The woman encouraged her to share her story with more people and Summer considered the idea, knowing it would take a certain level of vulnerability to open up about her situation.
On a whim, she posted the story behind the bells on Facebook and it blew up over Christmas, where she sold a hundred.
"People were thanking me and saying the bells were something that really helped them," she said.
The parents told Summer that it brings them closer to their children and the couples can also connect better.
"I thought if it touched people like that, and if I could raise money for victims of domestic violence and I could bring it all together, with the fact that painting this art heals me – holy, what could I ask for Moreover ? "
Since launching the love bells at Christmas, the artist has sold around 20 to 30 every week – enough to keep his hands busy and his mind focused on healing.
Now she plans to donate 10% of the proceeds from each bell to support domestic violence survivors who have been in those shoes and don't see the abusive relationship for what it was at the time.
"It was a very controlling relationship," Summer explained. "But there was an approach where I didn't realize what was going on at the time – which is very common in traumatic situations and domestic violence."
Although she hasn't chosen an organization to support yet, the survivor is looking to Big Hill Haven in Cochrane in hopes of helping someone else find a path to recovery.
Although she is passionate about the travel industry and has done everything she can to hang in there, she has deemed her career too volatile to continue at this time.
"I decided to put my money, my heart, my soul into something else that I'm passionate about," Summer said. "It helps more families, helps more women, helps more people and it just makes my heart sing.
"Mental health doesn't have to be a secret topic. I've battled depression, PTSD, and been through it – and so can you."
Currently, Summer's Love Bells are available for purchase online through Etsy. To expand their reach in an effort to help more people, she also hopes to create her own website and develop a presence in local stores and markets.